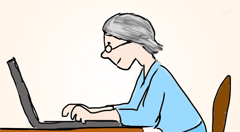 From time to time I get a letter from my Internet provider pointing out I'm an Extreme Techie because of my internet usage, wouldn't I like to pay more for faster service? Well no, not yet. My present rate is locked in forever so I won't change unless they degrade my service.
I do appreciate them calling me an Extreme Techie instead of a Geek, though. I first noticed the term when a parent of one of the kids in my Sunday school class said her boy loved watching Nova (a program about science) with his father. "He's a real Geek," she said. What a great way to get more of our kids interested in devoting themselves to fields that require discipline and hard work.
What do you think? Do you think American society devalues study and hard work? If you're in another country what is it like where you are?