I thought I was being ridiculously early making arrangements for our trip to see Kaitlin, Torben and the grandbabies this fall. But we're going by train, we want a sleeping compartment, and when we went in Spring, 2011 we didn't have much choice of dates because most of the rooms were already booked. We also paid a lot extra for reserving so late. So last night Andy and I went to the website and made our reservations. Whew! The room for coming back was already about 50% higher than the standard price, so we weren't that early after all. It was nice to have it settled…we thought.




I figured making the hotel reservations could wait, but I do have that "working dog" instinct so figured I might as well get that out of the way too. Andy likes one particular hotel close to Kaitlin and Torben, but the rates were ridiculous—almost 40% more than the highest rate we had ever paid. So I thought about it, poked around the internet, made a couple of phone calls, and got a good rate if we stayed Thursday-Monday instead of Friday-Tuesday. Kaitlin had already said Thursday would be fine, so I made the reservation. By this time it was about 5 am so I figured I would put off changing the train reservations until today. Yeah, sure. Lots of luck with that.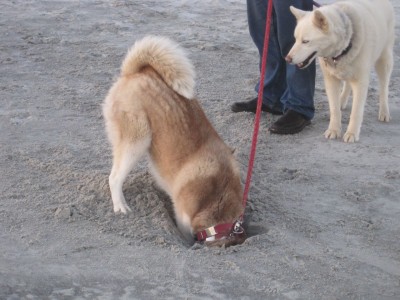 The Thundering Herd
. Used with permission.

I had never tried changing train reservations before so it took some time, but it will be a lot easier if I ever have to do it again—assuming (dream on, Jean!) that the system hasn't completely changed by then. 😀
What about you? Have you ever been afflicted with the "working dog" instinct?